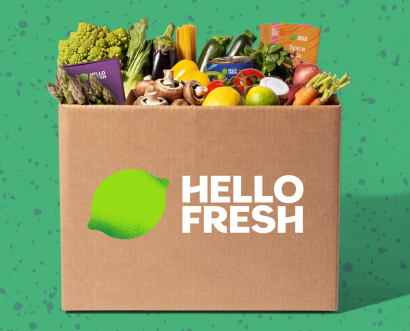 Please note this post is not sponsored.
The pandemic saw an explosion in demand for meal-delivery services. With people being cooped-up at home pretty much 24/7, juggling work, home-schooling and domestic life has become increasingly challenging.
Many of us turned to a meal subscription service to gain some time. Do meal subscriptions really save time? And are they worth the money?
I tried Hello Fresh for a few weeks, and here is my honest review.
First, What is a Meal Subscription Service?
When you subscribe to a meal delivery service, you agree to a schedule of ingredient deliveries right to your door step. Within these boxes, you're getting everything you need to complete the meals.
It means that your meats, pastas, vegetables, and any other necessary ingredients for cooking will come right to your door in a cooler-style package. These boxes also come with step-by-step instructions on how to prepare the meals.
Hello Fresh is one of the meal subscription services available in Canada.
What I Liked About Hello Fresh
Large choice of recipes: HF offers 28 weekly options. It provides enough variety for most palates.
Packaging is 90% recyclable: this is a feature that I really liked.
Quantities were as promised for the most part: the majority of recipes provided 3 to 4 meals.
I enjoyed the meals for the most part. They were tasty and satisfying.
Their Web platform is easy to use: from ordering to skipping deliveries and cancelling the subscription, everything was very straightforward.
What I Didn't Like About Hello Fresh
The recipes are very basic: this can actually be both a good and a bad thing. A lot of offerings are based on pasta, rice, potatoes, salads…You can buy the groceries and create these meals yourself, for a fraction of the price Hello Fresh charges you.
Meal-prep takes a lot of time: nothing is prepped and pre-portioned. You have to do all the work! This is what I least liked. You won't save time with Hello Fresh.
Some waste with spices: the quantities of certain spices are too big, resulting in waste.
Quality of ingredients left much to be desired, at times. Some vegetables didn't look that great on a few occasions.
I received a few packages where some ingredients were missing!
Verdict: Not Worth it For Me
At a full cost of $ 124.00 per week -at the time of writing-, I find the level of quality of ingredients and types of recipes are not worth that price. Not to mention I had to do all the work!
I had a promo code that lasted a few weeks, and the price was more interesting for what I got. Still, it didn't make up for the lack of convenience….which is what a meal subscription service is supposed to provide.
Who are meal kits for?
People who eat-out a lot: if you're constantly surfing Skip The Dishes or Uber Eats, you may want to give it a try. It will save you some money and some inches on your waistline.
People with a very hectic schedule
People who really don't know how to cook and want to learn/get started
And remember that most meal kits companies don't provide breakfasts, fresh fruits, snacks and beverages. You have to buy and pay for these as well.