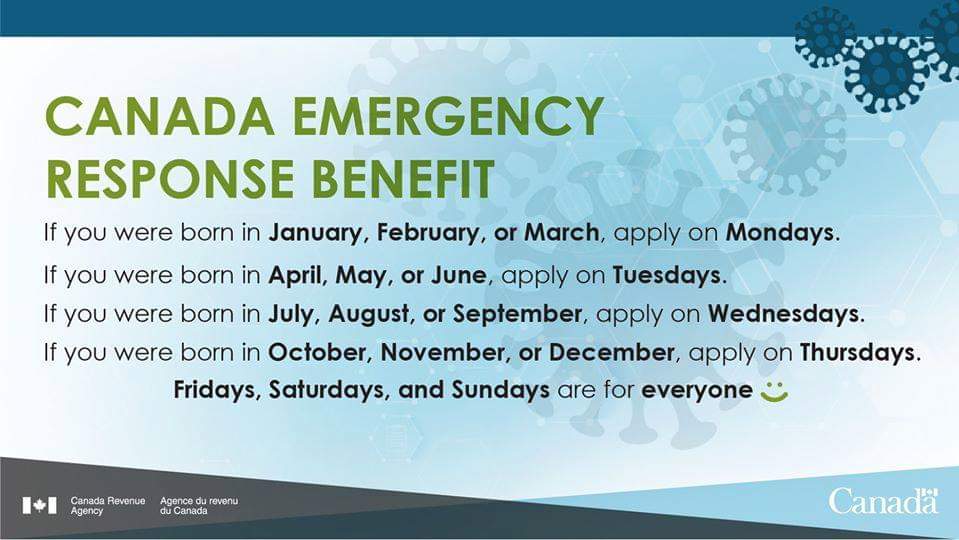 I previously wrote a post about the Canada Emergency Response Benefit, mainly to summarize the qualification criteria.
This benefit has since been expanded to include more people. Additional clarifications were also provided.
Updated eligibility criteria
In order to receive CERB, you need to meet the following conditions:
You're a worker -either employed or self-employed- and your hours have been reduced or eliminated due to Covid-19
You have sustained a total loss of income in the last 14 days OR you earned less than $ 1 000 in employment income
You are not expected to earn any income in subsequent periods OR you will earn less than than $ 1 000/month in employment income
OR you were receiving regular EI benefits on Dec 29, 2019 and your claim has ended since; you're still unemployed AND
You are at least 15 years old AND
You reside in Canada AND
You've earned a minimum of $ 5 000.00 in 2019; These 5K need to be considered "regular income" by CRA: employment income, self-employment income, EI benefits, commissions…They're not mutually exclusive. Dividends or director's fees are excluded. Same with grants and bursaries or with income assistance programs.
Please note the "or" as well as the "and". They're crucial here!
Updated breakdown
Eligible
Laid-off because of Covid-19, do or don't qualify for EI
Sick with Covid-19, do or don't qualify for EI
Hours reduced or eliminated because of virus, either employed or self-employed; do or don't qualify for EI
Earning less than 1K/month
Taking care of a relative sick with Covid-19
Taking care of your children because of schools/daycares closure
On EI at Dec 29, 2019 benefits exhausted since, still not working and earning income
Receiving other Covid-19 support payments from province/territory
Not eligible
Still working and earning more than $1K per month
No longer working but paid by employer (lucky you!)
Employer on wage subsidy program, i.e. paying you
Job slated to start soon, including students with Summer jobs
Receiving any EI benefits: employment, sickness, maternal/parental
Receiving pension or income from RRIF
Receiving income assistance
Receiving disability payments from insurance co. or gvt
Students who didn't have jobs prior to Covid-19
Stay-at-home parents prior to Covid-19
People who resigned/voluntarily quit job
Loss of income/job for other reasons than Covid-19 (apply for EI, if you qualify)
Unemployed & not on EI on Dec 29, 2019
On unpaid leave of any kind, i.e. not working, not earning
Didn't earn 5K of regular income in 2019
Unfortunately many people will still not qualify for CERB.
If you're a student, there is some hope for you. The Federal government has just announced the creation of the Canada Emergency Student Benefit -CESB-. Details unclear at this stage though.
Where to apply
This has also been clarified by the Federal government.
If you're eligible for EI, i.e. you worked the required number of hours, apply via Service Canada. The required number of hours can be found here. – you'll need to scroll down-. Look at the hours entered on your Record of Employment -ROE-.
If you're not eligible for EI, apply via Canada Revenue Agency.
Do not apply to both, and do not switch agency when re-applying. It's OK if you applied via CRA even if you should have applied via Service Canada instead.
Amount, length and taxes
The amount is still a flat $ 2 000/month, regardless of how much you made prior to applying.
It's available for a maximum of 4 months. You still need to re-apply for each eligibility period.
This benefit is taxable, however CRA will not withhold any income tax.
No documentation required….yet
Upon applying, you only need to certify you meet the eligibility criteria.
However, CRA or Service Canada may ask you for documentation later on. Keep this in mind, particularly if you want to game the system…